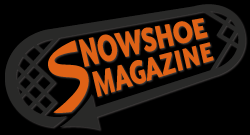 "I was automatically in love with my GoMotion light". 
When I first used the GoMotion Sternum kit, it was as if I was snowshoeing with a big headlight on my chest.  "That thing makes you look like Ironman with his 'glowing repulsor' heart," my snowshoeing buddy said.  Of course, nerdy comment aside, I did feel like Ironman; I discovered that an LED light makes the surrounding snow glow.  This nifty "glowing" effect comes in handy around dusk, when the sun drops below the mountains and darkness starts to set in.  I was automatically in love with my GoMotion light.  Every snowshoer needs one of these, in case it does get dark during a snowshoe outing.
GoMotion designed the Sternum Luxeon LED Kit for hikers and endurance runners who want to use their existing packs when hiking or running in low-light conditions. The Kit features a high-output 1- or 3-Watt Luxeon LED with separate battery box and hard-wired power cord for quick mounting to shoulder straps at chest level by two Velcro straps.
Here are the features:

*Three-Level Beam Intensity
*Flood to Spotlight Beam Control
*Adjustable Beam Angle
*Two Flashing Rear LED Taillights
*Three AA Energizer batteries Included
*Accepts GoMotion Rechargeable Battery Pack
*Low Battery Signal
One of my favorite features was the adjustable beam intensity and beam control.  This allowed for a more focused beam on certain objects – like upcoming trail obscurities – or a flood light over a wider area of space.  I found myself using this feature often and enjoying the control.  
The GoMotion Sternum Light was situated comfortably on the middle of my chest.  It wasn't too inconvenient or in my way when snowshoeing.  It used the straps of my backpack for stability and provided enough light for the hour I used it on my trip.  In my mind, the GoMotion Light made the snow glow around me similarly to a full-moon lighting effect.  If you've been on a full-moon snowshoe trek, you'll automatically understand what I'm referring to: the snow majestically glows in the dark with direct full moon exposure.  
The one downfall of the GoMotion Light was the battery pack.  It's already heavy enough without three AA batteries and sometimes becomes troublesome when finding suitable storage during a snowshoe trek.  The battery life seems to last a while.  After using it frequently last season, I dug it out of my gear this season and it turned on with no issues.  Sweet!  I think that makes up for the weighty battery pack issue.  But, that is one problem with batteries in general, they're heavy and sometimes inconvenient to all electronics (unless it's an iPod).